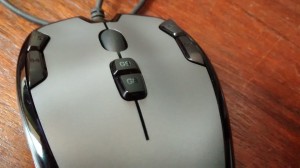 The looks of the mouse are relatively conservative, a simple Logitech logo in the palm area complement relatively discrete macro buttons – the 'gaming' nature of the mouse comes through however with the LED stripes on each side of the mouse. These are configurable but I was disappointed that it seems there is no easy way to get a full RGB spectrum for a little more fine tuning (yes I wanted orange stripes down my mouse!). There seems to be a small issue with the white mode though where it seems to have a certain purple tinge to it. Then we get to the underside of the mouse, it's red and frankly doesn't look that great, thankfully it is on the underside so you rarely have to see it.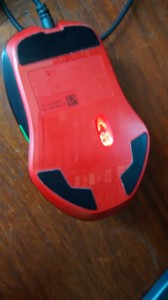 The macro buttons are very helpful no matter what your main interest in computing is – gaming, editing, office – they help you use your computer more efficiently. I myself am not a heavy gamer but my fairly unique setup is to have two macro buttons as DPI up/down. Middle Macro as F11 and then the other two macro buttons as Ctrl and Alt. This works well for me, the software allows you to easily get a setup which suits you.
The Mouse feels great to use, even if you don't have a mouse mat its fine and still responds well. The mouse feels slightly weighted and the fact you can' customise how much weight is in it signifies it isn't for a hard-core enthusiast desktop gamer. If you're a two finger on mouse kind of guy however, this mouse has forced me to switch to 3 fingers to aid in comfort – however this could be due to my small hands, this wasn't a problem for my parents though.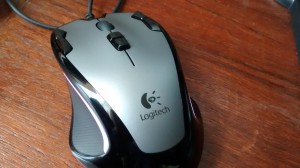 The control panel for the configuration of the mouse is acceptable, with various option on where to store the profiles and for new profiles to be automatically activated upon an event, which is useful if you are someone who needs multiple profiles depending on the program – different hotkeys for photoshop, after effects, etc.
Build Quality is acceptable – it obvious doesn't have quite the same premium feel as more expensive mouse – the cable looks a bit thin but the mouse itself feels sturdy.
Summary: The Logitech G300 Gaming Mouse is a joy to use, the ergonomics are great and – when set up correctly – can lead to a great computing experience, whether you are a gamer or not.
Features
Value for Money
Quality
Overall
You can pick one up now from Viking by clicking here.